From May 22-26, three students from Heritage Christian School  attended the International Student Convention in Warrensburg, Missouri. There were over 2200 participants from 23 countries representing 6 continents. The events our students entered had anywhere from 9 to 97 competitors.
Our students were entered in a total of 11 events and placed in the top 15 in seven of these events. Our students received medals as follows;
Emma Smith placed 1st in Poetry Recitation (Female), 12th in Poetry Writing and 14th in Photography Color Plants.
Victoria Johnson placed 2nd in Coordinates (Sewing and 7th in Expressive Reading (Female)
Laura Smith placed 2nd in the 1600 meter run and 8th in Expressive Reading (Female)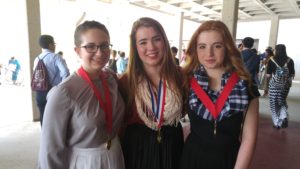 Congratulations to our students